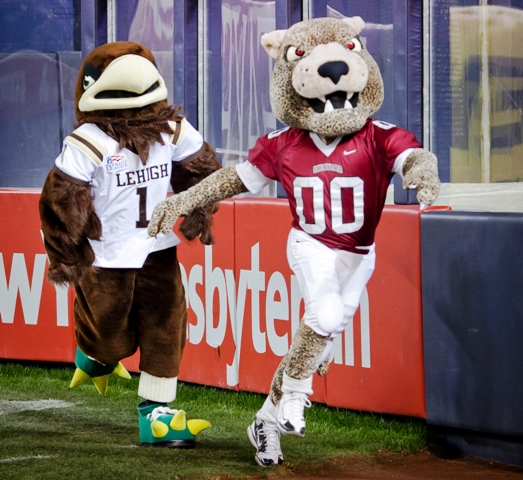 This letter contains important information regarding traffic control and transportation for the upcoming annual Lehigh vs. Lafayette match-up. The following procedures have been discussed by members of the Dean of Students staff, the Interfraternity Council leadership, the Multicultural Greek Council, the Panhellenic Council leadership, Parking Services, and University Police. Please take the time to review this letter and discuss its contents with your members.
*Each residential chapter will be issued Lehigh/Lafayette parking passes equivalent to the number of available parking spaces in the chapter's respective parking lot. These passes grant one time entry to Sayre Park and will be surrendered upon entry. Chapters will also be issued two reusable passes. Chapters have the flexibility to distribute all passes to members, alumni, or other guests based on need.
*Parking passes will be available to chapter presidents for pickup and distribution beginning Monday, November 7th in the Office of Fraternity and Sorority Affairs. Misplaced parking passes will not be replaced.
*Only vehicles with Lehigh/Lafayette parking passes will be admitted to Sayre Park roads (the Hill) between 5PM Friday, November 18th through Sunday, November 20th at 5AM. Your regularly assigned parking permit will not grant you access.
*Students with valid parking permits that wish to move their vehicles to create space for alumni and other guests must do so by Friday, November 18th at 5PM. Vehicles can be parked on Mountaintop Campus in the commuter parking lots or in any other University lot available for student parking. Vehicles parked in non-student designated spots or parked in non-parking areas (e.g. fire lanes) risk being ticketed and/or towed.
* Vehicles parked in fire lanes or along the roadside will be towed at the owner's expense. Please monitor illegal parking areas and keep alumni and other guests from parking in these locations as well. The Lehigh University Police Department has the authority to restrict access to Sayre Park roads (the Hill) during Lehigh/Lafayette weekend if there are safety concerns and impassable roadways.
* Buses to Fisher Stadium at Lafayette College will arrive at Packer Avenue bus stop at 10AM for boarding. Buses will depart at 10:30AM. Each individual must have a game ticket AND a bus ticket in order to board the bus. Buses will depart immediately following the game.
*Should your chapter wish to hire a private charter to Fisher Stadium, pick up and drop off should be scheduled along Packer Avenue between Vine and Webster streets. No buses should block any other public streets for loading purposes and will be told to move by the Lehigh University Police Department.
*Lafayette College has allocated 45 student tailgate spots for Lehigh at the corner of Dietrich Road and Bushkill Drive (901 Bushkill Drive, Easton, PA). Vehicles may enter the Lehigh tailgate area between 9-10AM or until capacity is reached, after which the area will be closed for vehicles for safety reasons. Buses may drop off students at this location, and will then be directed to Metzgar Fields in Palmer Township for off-site parking.
*We suggest you inform alumni and other guests prior to receiving Lehigh/Lafayette parking passes so they may have time to request passes from you. We also encourage that you post this memo on your chapter's website; share it with your alumni advisors; and distribute it to your alumni email contacts accordingly.
*Should you host social events during the weekend and invite alumni and other guests to attend, please communicate expectations regarding social policies and appropriate behavior. Many alumni are not familiar with current rules and procedures, and your chapter is responsible for ensuring all guests comply with all laws and abide by the Lehigh University's Code of Conduct.
* If you have any questions or concerns please contact the Office of Fraternity and Sorority Affairs by email at infrasor@lehigh.edu or by phone at 610-758-4157.